Home : Chairlifts : Manufacturers : Aerial Lifts : Ringer Chairlifts
Ringer Chairlifts
Timeline: 1951-1953
Chronology of Ringer Chairlifts
A total of eight Ringer chairlifts were installed in four western states between 1951 and 1953, seven of them being the Double Swivel. Here are the locations where they were located.

1. 1951 Chewelah, Washington (Now 49° North). 3,800 feet long.

2. 1951 Holiday Hill, California (Now Mountain High East). Over 5,000 feet long with a vertical of 1,600 feet.

3 & 4. 1952 Mt. Baldy, California. 4,000 feet long with a vertical of 1,330 feet. 2,600 feet long with a vertical of 1,020 feet.

5 & 6. 1952 Reno Ski Bowl, Nevada (Now Mt. Rose). Transportation lift from Sky Tavern, abandoned after an all season road was constructed. The Towers are still visble along Mt. Rose Highway. The other lift was 4,500 feet long and operated until 1971 when it was converted to a Riblet.

7. 1953 Snow Summit, California. America's first monocable detachable. 5,000 feet long with a vertical of 1,150 feet.

8. 1953 Terry Peak, South Dakota. 4,500 feet long with a vertical of 1,150 feet.
In March of 1943, a young ski racer from Germany, Karl Ringer, was riding a train from Munich to Nikolajew, a town right on the Black Sea, where he worked as an engineer for a shipyard. While on the train, Ringer drew up a sketch for a chairlift design that he had and was hoping to get a patent for when the war ended. His design was marvelous. Instead of being like an ordinary double (no doubles had been built at this time yet), the design also included a swivel system that enabled the chair to open up as people were about to unload from the lift.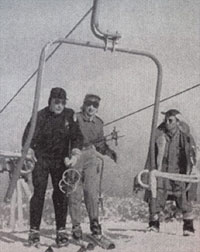 A photo from 1952 of the Double-Swivel chairlift at Holiday Hill, California.
When Ringer came to America in 1950, he had already known a lot about its ski impressions. Ringer first visited America in 1938 when he was with some of his classmates that were touring the country yodeling and schuhplattling (traditional Bavarian dancing). It was during this period that Ringer learned about the first chairlifts that had been installed at Sun Valley in the world.
In 1950, Ringer wasted no time on developing his Double-Swivel chairlift. In 1951 he was quickly able to sell two of his lifts to Chewelah, Washington and Holiday Hill, California.
The swivel feature enabled passengers to just stand up as they were getting off the lift because the chair would swivel around them, but the loading the procedure for this type of lift was essentially the same as any other double chair. The two-passenger seat was actually cut in half and each hinged side was weighted and cantilevered to open when the riders stood up and created resistance against the seat with their backside. The chair simply passed by the riders as they stood up and the seats would then later swing back together.
During the Korean War, it caused several problems for Ringer, because metal could no longer be used for recreational facilities. However, Ringer had already dealt with this type of situation over in Germany while building lifts and knew how to over come it. This was accomplished by looking around in scrap and army surplus yards.
Although in 1952, Ringer was hurting for lift parts for a lift that he recently installed at Snow Summit in California, which made history as America's first monocable detachable lift. The lift opened in January of 1953 and had a length of 5,000 feet with a vertical of 1,500 feet. For this lift, Ringer used the automatic couplings off old German cable-car sets Ringer made the necessary modifications to make this lift work. Each chair had a sheave with the clutch that was attached to the grip. The lift was operated by a person who pushed the chairs around the contour to the area where the riders would board the lift. Then the operator would push the chair further to a spot where the spring-loaded clutch would open the jaw and then close onto the moving haul rope. When the chair arrived at the top station, the clutch would disengage, allowing the grip to detach from the haul rope. Once the riders unloaded from the chair, a lift operator would then push the chair around the contour and send it back down.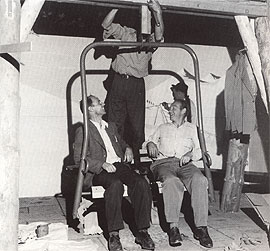 Karl Ringer (seated left) is sitting in his patented Double-Swivel chair at the 1950 Los Angeles Snowball. The man sitting next to him is Sepp Benedikter, who was one of the founders of Holiday Hill, California.
Unfortunately, the final story on this detachable lift wasn't a happy one. Dick Kun, who is the president of Big Bear Resorts, which owns Snow Summit remembers "The design was unnecessarily advanced and complicated for the technology of the times. It was labor-and-parts intensive." The first season the lift operated, a chair fell of the haul rope when its clutch failed to engage properly. The riders sustained injuries, but luckily didn't die. But the fallowing summer, the chair derailed on the uphill side, knocking the sheave off the chair as it crashed into a tower dropping the chair and killing one passenger. The lift was never operated again after this incident.
However, Ringer continued to install his fixed grip Double-Swivel chairs design even after the fatal accident at Snow Summit. His eighth and final lift was installed at Terry Peaks, South Dakota in 1953.
But the fatal accident at Snow Summit wasn't what led to the demise of Ringer Chairlifts going out of business. In 1953-54, Ringer traveled to Switzerland to talk to various lift manufacturers about a license for his patent. Ringer signed an agreement with Bell for a small down payment plus royalties on lifts using his patent. He thought he had just made it big, but later found out that Bell had bought his patent in order to take it off the market rather than use it. This is what led to an end of installing chairlifts for Ringer and his company.
Ringer later went on to a successful career centered around the Cold War. He spent most of his time developing starting ramps for the intercontinental Minuteman missile and then on to designing and developing a graphical representation for the planning phase and controls for IBM. Karl Ringer finally retired in 1971 in Bad Waldsee, Germany.
Even though Ringer's skilift career was short, his Double-Swivel chair design is what made his lifts so unique. Heinz Steinman, who's a son of one of the founders of Holiday Hill, California said, "When you look at it on paper, it looks like a terrific idea, but people's instinct was to run away from it rather than standing still and letting it go by you. Then, when you demonstrated that the chair would split in half, well, can you imagine the looks on their faces?" Out of the eight chairlifts that Ringer installed, none of them are still in operation today.


The illustration above is from a Ringer ad that ran in the March 1953 issue of Ski Magazine. The captions for the three illustrations above are: 1) Loading and riding are conventional; 2) Unloading: Riders just stand up chairs swivel around them; 3) Chairs return automatically to loading position.
All pictures and content were gathered from SAM Magazine, May, 2000 ©