Home : Chairlifts : Manufacturers : Aerial Lifts : Hall Ski-Lift Company
Hall Ski-Lift Company
Timeline: 1960-1985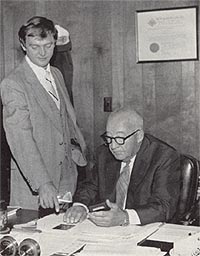 President Rand Timmerman with his
father-in-law company founder and
chairman, Victor E. Hall
Even though the Hall Ski-Lift Company hasn't manufactured a lift since 1985, it still is a very beloved lift company today. Throughout its time, Hall installed more than 800 ski lifts, making it one of the largest aerial lift manufacturers in North America.
It all began in 1945 when Victor E. Hall became interested in helping a customer construct a ski tow. At this time, Victor Hall was working as a project manager for a large industrial equipment company in Syracuse, New York. This event quickly led to a sideline of constructing pre-assembled rope tow drives.
As Hall studied the market, he paid close attention to the patents. One patent that grabbed his attention was one for a T-bar that was held by Ernest Constam, a Swiss Engineer who was living in Colorado at the time. In 1954 the patent expired, and it was no coincidence that Hall built two T-bars that year for old rope tow customers. The two T-bars were installed at Highmount and Snow Ridge in New York.
However, the fabrication of those two lifts had been subcontracted, but Hall believed that to maintain the necessary quality he would have to control the manufacture directly. In 1955 a small shop in Turin, New York was rented and the services of "a mechanical genius" named Clarence Curtis were retained. That year two more lifts were built and the Hall Ski-Lift Company was born. Although the Hall Ski-Lift Co. had been formed in the 1950s, it wasn't incorporated until 1963.
In 1957, Hall had already outgrown the small facility in Turin and operations were moved to an old dairy plant at Burdick's Crossing. But in 1962, Hall had outgrown this new facility and the company was once again relocated to Watertown, New York. Certainly the Hall Ski-Lift Company was well ahead of its time during the ski area expansion phase. There had been Hall lifts installed all the way from Maine to California. In 1963, Hall had an outstanding year and installed 54 new lifts, 14 chairs, 32 T-bars and 8 J-bars. By 1968, there had been 418 Hall lifts installed at 266 ski areas.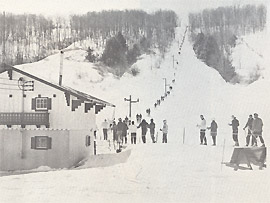 Hall's first T-bar, Snow Ridge, New York in 1954
Victor Hall was known as a courtly man, completely unpushy and it's probably what made his lifts such a popular choice among lift buyers. Victor logged many hours flying across North America to promote his lifts and keep Hall Ski-Lifts on the expansion track.
Some of Hall's first in the lift industry were:
First to offer bullwheel unloading in 1964.
First use of derailment switches.
Air snubbing (air in tube) on T-bars.
First use of aluminum in lift construction.
First use of adjustable tower arms.
First with bullwheel backstops.
First to use self-loading T-bars.
In 1970, Victor Hall stepped down as president and became chairman of the company. Hall's new president was Rand Timmerman, a lawyer who married Victor's only daughter. It was kind of tough for him since he had his father-in-law looking over his shoulder all the time, not to mention he just graduated from law school and knew nothing about the business.
However, the Hall Ski-Lift Co. faced some hard times during the 1970s because of the oil embargo and the recession of 1973. Victor Hall had to justify a way to keep the company alive and it was done by fabrication subcontracting, along with the construction and marketing of wood burning stoves to meet America's new energy conservation. Because of the hard times Hall was facing during this period, it lost a lot of its engineering talent, but Hall finally recovered in 1977.
Just a few years later after the company recovered, it was faced with another challenge, foreign competition. With the slow down of the market, lift installations were down and foreign lift manufacturers could offer more attractive financing packages. To keep Hall a competitive lift manufacturer, it worked with PHB to form a division called PHB Hal in the 1960sl. The bond enabled Hall to offer a wider range of products such as detachable lifts, the kind of lifts that ski resorts were demanding. But it wasn't long until Von Roll; a Swiss lift manufacturer, bought Hall in March of 1983.
Today, Hall is now part of the Doppelmayr/ Garaventa group, but you can still find many of its lifts in operation today across North America.
For more information about Hall, check out Chairlift.org's PHB Hall page.

Hall's first manufacturing facility in
Turin, New York.

Hall's second plant in a converted
dairy farm in Burdick's Crossing,
New York.

Hall's third plant in Watertown,
New York.
All pictures and content were gathered from SAM Magazine, January, 1981 ©